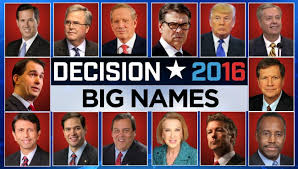 The next President of the United States will have to shift away from the traditional fundraising strategies which have been used over the last two Presidential campaigns.
It will be critical to use "marketing integration" to raise funds and move away from silo'd approaches of using independently: (1) traditional direct mail, (2) telefunding, (3) email marketing, (4) search engine marketing, (5) receptions and special events, (6) major donor personal solicitation.
Campaigns in the past have used "shot gun" approaches with very little coordination between DM, digital, telephonic and special event funding.  There is very little consideration given to the donor who responds in multiple channels.  The donor who gives in the mail, on the phone and on line is going to get bombarded with communications from each channel.  Far worse, the traditional campaign doesn't even take the time to do wealth research from these donors to identify wealth capacity and FEC history for potential to "max out" to the campaign or renting to PACs for larger gifts.
The winning campaign in 2016 will be the campaign that deploys wealth capacity research. The worst mistake campaigns make today is asking multi-millionaires for $25 bucks.  Real time wealth research (even with the direct mail responders) is critical to asking the donors for the right amount in this crowded field.
Traditionally, because they are moving so fast, proven fundraising techniques by non-profits today are rarely used.  The winning campaign in 2016 will ensure that there is a contact cadence for every donor and that automated wealth research is completed so that they are resolicited for the right amount.  The direct response techniques are providing qualified leads to the face-to-face solicitors conducting special events and personal solicitation.  Mail, phone and digital marketing must feed the limited number of professional and volunteer fundraisers in the field.
Impact of Multiple Fundraising. The total number of candidates for President is now at 21, with 16 declared candidates for the GOP nomination, and this has translated into more than 50 PACs/SuperPACs that are all taxing the limited pool of professional and volunteer fundraisers, fundraising agencies and vendors and, of course, the funders.
The number of campaign professional fundraisers is already tapped out.  It is just that simple.  As importantly, the number of volunteer fundraisers and hosts for fundraising events will soon be maxed out as well.  This will be complicated by the number of major donors who will simply "set it out" until the crowd thins out and the marginal candidates get out of the race.
The 2016 finance plan that succeeds will be one that throws out the old, "siloed" fundraising techniques and replaces them with integrated fundraising channels.   The traditional model of independently organized events, siloed telemarketing, stand-alone email blasts and internet marketing, and of course, detached direct mail appeals will spell failure.
Integration of all communication channels will translate into success in 2016, unlike any other year.  Direct mail, telephone and email must be coordinated to insure that are not cannibalizing contributions and far worse, mixing the messaging and specific campaign asks or needs.  As importantly, direct response program must "feed" major gift fundraisers new names on a weekly basis of individuals that responded to DM, email or phone.
With the number of Presidential candidates in the field, real time research must be done on direct response donors and then fed as "leads" to major gift fundraisers on a daily basis.  The goal is to encourage donors "with capacity" to max out to the campaign.
FUNDRAISING INTEGRATION
Integration will be the key to empowering the candidate's team of fundraising professionals.  Events, as well as, individual solicitation needs to drive the operation.  As importantly, new names must be fed to the finance committee from the research on new donors through direct mail, email, telemarketing and digital SEM efforts.
The successful fundraising plan must optimize outside fundraising at the grassroots level and create a process for sharing donor information and prospect targeting.  A fundraising plan which focuses on INTEGRATION techniques must include:
Major Gifts Officers – Regional Fundraising Professionals
In the 2016 Presidential cycle professional fundraisers are going to have lists that are very "picked through" because of the number of candidates in the field.  It is critical that paid fundraisers be feed leads every week of direct response responders who have capacity to max out or a minimum of $1,000.  This process does NOT happen organically.  It must be automated and a system of "wealth research" conducted on every gift under $1000. (Of course, every donor over $1,000 should be assigned to a full time major gift officer in the field.)
In 2015-16, the victorious campaign will not only hire professional fundraisers in targeted states to help with soliciting donations, but create a process for feeding the fundraisers "high capacity" donor prospects.  The successful campaign must be able to recruit major gifts professionals.  Commission based professionals will gravitate to the Presidential campaign that has the best process for providing more prospects to impact overall gross income for both the candidate and fundraiser.
Middle Donor Upgrade Program
 The winning organization must have a strategy or plan for middle donors.  Middle donors for our purposes are donors who have currently given between $250 and $1,000, but have the capacity to max out to the Presidential campaign at $2,600 (for the campaign max).
More aggressive gift array or ask amounts in their direct response fundraising appeals. Instead of using static asks or beginning with their previous highest gift we are begin by asking for a little more.
Assign to a call center (or volunteer caller) to email and call to thank for donations of any amount and to include them in the "inner circle" announcements on a monthly basis. Typically, the middle donor rep will call to follow up on a specific initiatives (either a mail campaign, an e-mail, or a multi-channel effort) to answer any questions the donor might have and to confirm the donor's intention regarding that specific project.
High capacity direct mail. Middle donor direct mail is markedly different from the regular direct mail program (the following are true for your solicitations as well as newsletters).  The underlying principles are the same, but the execution varies significantly.  You'll want to use closed face envelopes instead of a window envelope.  First Class postage (on the outer envelope and reply envelope) is a best practice here as well.  Middle donor letters tend to be longer than regular donor letters, providing more details and going deeper into the stories and issues.  Often larger formats get bigger gifts.  We'll want to test different formats.  Another hallmark of middle donor mail is true handwriting.  Putting blue, handwritten ink on paper has a huge impact on conversion with this audience.
High touch e-mail program. Similar to the high touch mail program, your e-mail efforts to this audience should be unique as well.  This might include a more formal skin to your e-mails, a special monthly update from the candidate, and a set of landing pages unique to our middle donors. (In addition, this could be a version of our major donor landing pages, once we've created those).
Direct Response Program
 Most campaigns rarely take the time to use all the information technology available to them.  In fact, most simply use a shot gun, a siloed approach to every channel: direct mail, email, telephone, robocalls, just to name a few.  Because of the short timeframe of campaigns they usually have one company doing calling, another company doing email, another company doing direct mail and another company doing the robocalling, etc.  Donors who give in multiple channels will receive from a campaign separate appeals from each channel that increases in weekly intensity as the campaign progresses.  Those unique donors who give in multiple channels (often your best donors) that have responded to mail, phone and internet appeals are deluged with all the appeals from every track.  Far worse, because of the shot gun approach, usually static asks are made, rather than custom "ask amounts" based upon the supporters history and capacity. The worst mistake we make in campaign fundraising is asking millionaires for 25 bucks….  In the past, the best our campaign (just like nearly all campaigns) could hope for is to have each channel discussing the same message every week.  Supporters are simply lumped or siloed into the channel they were originally in contact the campaign with.
The winning Presidential campaign must to use information technology to integrate: message; offer; frequency of contact; and ask amount.  We are going to vastly improve our relationship with our supporters by establishing the proper communication cadence with each donor.  Proper integration will translate into more frequent contributions and larger average gifts from the investors in our movement.
Unlike other campaigns, all names regardless of source, will be placed into a centralized database and communications will be integrated to maximize donor participation.
The centralized database will be "real time – same day" integration, regardless of the vendor or agency engaged in procuring support or involvement.
Integration means coordinating the touch points so that our system recognizes donors and as importantly customizes messaging and "ask" amounts based upon the donors previous giving history and/or capacity.
 4. Capacity Research.
Automated wealth appending is a process using compiled asset information to provide relevant information about a donor's giving capacity for use in fundraising.  While rarely used in political campaigns, wealth research has been an industry mainstay for non-profits for more than a decade.
We will insure that all active donors are wealth scored and ranked based upon giving history, capacity and philanthropic intent.  In addition, we will set up a process to conduct wealth research on every new donor within 72 hours of making their first gift.  The wealth research analysis will be focused on the following areas:
Wealth – identify markers of wealth including assets, income, business ownership and positions of influence.
Philanthropic Intent- gathers charitable giving to nonprofits, nonprofit board positions, volunteer activities and foundation trustees.
Target Ask- develop a "ask range" based upon giving history and capacity
Connections- identify personal and organizational connections to donors and prospects
The Presidential candidate must insure that their websites are on message and designed so that they do not downgrade giving.  As importantly, video focused, mobile device friendly and integrated with social media.  The winning campaign will also:
Confirm that the "donate button" is on EVERY page of EVERY website.
Upgrade the donate button's size and configuration. It should stand out with a separate, bright tab.  In addition, as part of optimizing the sight, we should test other words for a lift in giving other than "donate", to include: give, help, join, join us, join the fight, etc.
Launch aggressive SEM effort. We want to use google key-word buys in target markets to insure we are the top Presidential candidate in both organic and paid search columns.
On line Metrics. Develop a daily report to measure results and on line transactions.  Of critical importance is insuring that match back results are tracked to identify the number of direct mail, telephone and event donors go on line to process their donations.  Nationally, 25 to 40% of all direct mail donors go on line to process their gift.
Email Procurement. The donation page should be set up so that it requires an email to be submitted in order to make an on line donation.  Of critical importance for integration is linking every email address to a physical address.
5. Direct Mail.
The direct response program for a 2016 Presidential campaign must do more than acquire new donors through the direct mail acquisition to rented names.  The must make better use of technology to increase average gift amounts and improve retention.  As importantly, creating a process to integrate and feed other operations in the campaign new donor prospects and updated giving history from the mail and direct response efforts.
Feed the major gift program. The campaign must feed its fundraisers in the field the names of new donors who respond to the direct response efforts. Internal communications must be integrated so that new donors are researched for capacity and then provided to our fundraising team in the field for cultivation and future solicitations.
Integrate with event, phone and email donors. Most campaigns only mail donors who were acquired in the mail.  This approach kills retention and dramatically reduces overall income.  Integration is critical.  Not only do event, email and phone acquired donors begin receiving direct mail, but mail donors should be emailed, called and invited to events. Siloed communications without regard to other contact channels must be avoided at all costs.  Supporters must see a consistent brand, message and level of ask based upon their own personal history with the campaign.
Refine the ask amount/gift array strategy. The "gift array" is the formula used to determine the multiple "ask" amounts in direct response appeals and campaigns. In short, we try to build a unique ask for every individual donor using their own gift history.  There are multiple gift array refinements which must be corrected:

Stop static asks. Appeals where all donors get the same ask amounts are the worst kind.  You usually lower average gifts and suppress response rates.  Presently, our entire email and digital strategy is predicated upon static asks.  Note: the worst mistake in fundraising…. "Asking a millionaire for just $25 bucks."
Adjust the gift array multiple. Most campaigns are use HPC (highest previous contribution) as the base multiple and first ask amount in every appeal.  While this has been a mainstay for many years, it produces some very negative effects.  First it reduces the response rate, which ultimately spikes the number of lapsed donors.   Using HPC as the base multiple is just too aggressive, especially with increased frequency of appeals.  Most non-profit organizations use MRC (most recent contribution) with their 0-24 month donors.  The formula looks something like this:  1st ask amount = MRC; 2nd ask amount = MRC x 1.5; 3rd ask amount = MRC x 2.
6. Monthly Sustainer Program. Presently, most Presidential campaigns have no monthly giving program or sustainer initiative.  A monthly giving initiative is the quickest way to increase revenue and the number of contributions to our programs. Network for Good reports that 30-40% of all online donation volume nationwide is monthly giving. We want to immediately implement the following opportunities:
Reformat all donation forms to offer a recurring giving option. Whenever we ask for money we will ask for the monthly pledge, not just a one-time gift.
Edit our appeals and always mention a sustainer offer. Frame you ask in such a way that it's a win-win situation-monthly donations for the organization, convenience and budgeting for your donors.
Package the monthly giving offer in an exciting way. For example, some organizations have an ambassador program or a sponsor-a-child every month program. Presidential campaigns need to "brand" their program and put a face on the sustainable gift. "Become a monthly sponsor… join the XXXXX".
Ask for a monthly gift for every new donor transaction. It can be ingrained as a nice thank-you message: "Thank you so much for making a one-time gift. This is how you can put your support to work for us each and every month. Would you consider becoming a monthly supporter?"
Ask for a monthly gift from every donor who gives more than twice in a 90 day period. It will not only be triggered in the thank-you letter and messaging, but a call center will be employed to call and ask: "Thank you so much for making your 3rd gift over the last 3 months. Would you consider officially becoming a monthly supporter in our XXXX club?"